A few weeks ago, members of Reference went to speak, listen, learn and be inspired at the 17th International Journalism Festival in Perugia. Here we've collected some reflections on our experience, what we learned this year, and what we hope for next year's festival.
Networking & inspiration
"If there is a paradise for journalists, it might look very much like this" – Jabuk Patočka
There's no doubt that members felt Perugia was worth going to. It's a place to find like-minded people, make new discoveries of organisations, projects, approaches and perspectives, as well as to catch up with colleagues and friends, and meet with funders and industry bodies.
People left with a better understanding of the currents and debates in the international journalism ecosystem, and inspiration from pioneering and brave work being done.
Independent media has arrived
"The happy takeover of the independent media" – Catarina Carvalho
This year there was a good presence of growing and maturing independent media projects, not least from the dozen Reference members there. Members took part in six panels or workshops, including a panel exploring how to monetise the value of independent journalism led by four members of Reference. This all provided opportunities for constructive conversations and exchanges that are crucial to developing this thriving community of independent media.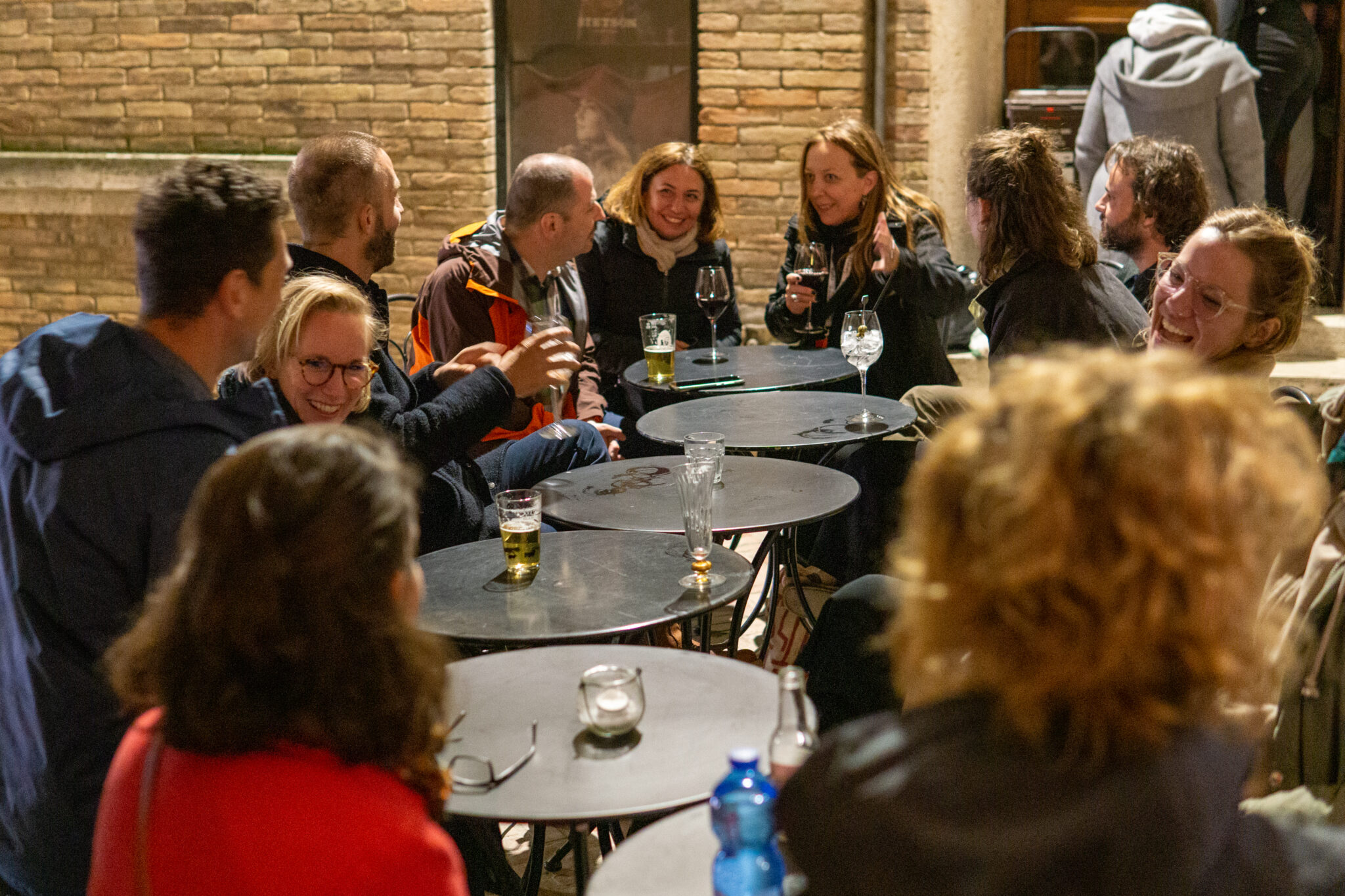 Much needed perspectives
"There were some very honest, alas at times uneasy discussions" – Elisabetta Tola
There were some striking panels and topics, from conversations on the lack of working class journalists, to decolonisation, and the shifting focus to the centring communities and the role of journalism in society. There's a sense that perspectives are beginning to shift and conversations moving forward on important issues.
Practical conversations about funding
"There is an evident need for independent and reliable journalism, but it is equally evident that support and funding are not sufficient" – Elisabetta Tola
Looking ahead to next year's Festival, one of the big hopes is for more conversations about funding, both on the practical side of what's available and how to access it, and also the bigger picture of there not being enough funding available, and how philanthropy and funding needs to adapt.
Independent media continuing to share challenges and successes
"It would be great to see more such discussions on how to manage and further develop small, independent media projects" – Johanna Weidtmann
There's big opportunities to build on the success of independent media coming together at Perugia this year. In particular, having more organisations meet and discuss, opportunities to be vulnerable in sharing where mistakes could be learnt from, speaking up about the needs of our sector, and focusing on exploring the specific challenges we face.
Speaking up about Julian Assange
"I feel disappointed that Julian Assange was missing from the programme" – Nikolas Leontopoulos
For some there was a notable lack of discussion of Julian Assange from the programme, and a sense that more needs to be done to highlight his case.
More proactive networking
"I need to be more strategic in my preparation and aim to make new connections beyond my current circle of peers and funders" – Peter Matjašič
Being proactive in arranging meetings beforehand can help make the most of the festival, to ensure there's the opportunity to have valuable in-person conversations. More organised networking opportunities at the festival would help facilitate more connections, and Reference will be looking at organising more fringe events next year to help bring together more people interested in developing the future of independent media.
Sessions with Reference members at #IJF23
Almost a dozen members of Reference took part in at least seven panels or hosted workshops this year. You can watch back all of the sessions which featured Reference members at this year's International Journalism Festival by following the links below.
Photos licensed under a Creative Commons Attribution-NoDerivatives 4.0 International License (CC BY-ND 4.0).